Welcome to this academic year's edition of the Centre of Development Studies' Annual Report.
This year has been unusual, but we have continued to teach development on our MPhil and PhD programmes to some of the world's best and brightest students, with our cohorts being among the most international in the University. We congratulate all our students who are graduating with their degree this summer or later in the year.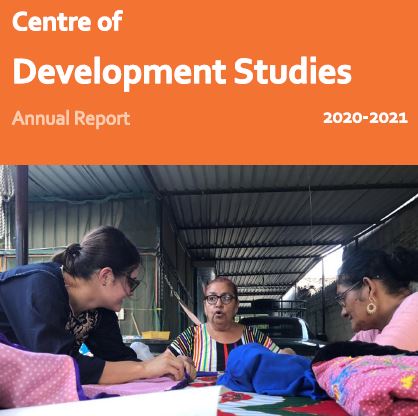 We welcomed Professor William Hurst, who joined us from Northwestern University, and who has taken over as Centre Director from Dr Ha-Joon Chang.
We celebrated prizes won, promotions earned and articles published by our teaching staff and students, and gratefully received a generous donation that has enabled us to set up a Hardship Fund for students on our courses who face unexpected financial difficulties partway through their studies.
Finally, we heard from three alumni from the 2019/20 MPhil cohort, updating us on what they have been doing since graduating. One of these alumni will return to Cambridge in Michaelmas 2021 to begin studying his PhD with the Centre. We are always interested in learning where your career has taken you – please send us your news if you would like to be included in future editions of this Report.